Whether you are trying to add some personality to your homes or gearing up for an event; artificial flowers have become a reliable and cost-effective alternative for aesthetical enhancements. The faux sunflowers have emerged as a great option for artificial décor for its vibrant and vivid aura. Sunflowers stand for hope, good luck and prosperity, which makes it a desirable option for home décor upgradations to wedding decorations.
Fake sunflower bouquets are easily available in the market and they are easier to work with. You do not have water them every day nor you need to worry about the sun, air, soil, or temperature suitable for sunflowers. All you need to do is find the perfect sunflower bouquet that fits your purpose and personality.
Read on to know more about the types of bouquets, best bouquet options for you available in the market and how to use these sunflower bouquets to upgrade your décor and life.
How to use sunflower bouquets?
• Bridal bouquet
A bride's wedding look is incomplete without the perfect bridal bouquet. The wedding gown, veil, Jewelry, wedding shoes, and a bridal bouquet in hands is what makes the bridal look charming and beautiful.
• Centerpiece
You can place them in a vase, pot, jar or baskets to make a cute little centerpiece with the. These bouquets can be clubbed together with other flower arrangements or bouquets to create wonderful centerpieces or floral table arrangements with them.
• Wedding car decoration
For wedding and homecoming ceremonies, you can decorate your cars with these amazing bouquets. Cascade bouquet with silk sunflower arrangement would look stunning on the front side of the car. you can place pomander style bouquets on the sides of the car all the way to the backside.
• Home decor
Fake sunflower bouquets make a stunning impression on your guests and add grace to your home décor. Place them in small or big, simple or extravagant vases or pots to add personality to your homes. Artificial sunflower bouquets can be used in a variety of ways in your homes based on your home décor theme and style.
• Office décor
Be it your cabin, cubicle or just a simple office desk; add warmth and personality to your workspace with some fake sunflower bouquets. You can easily trim them to fit into your desk pot or vase. You don't have to worry about water, air, temperature or soil to have a beautiful and bold sunflower bouquet on your desk.
Types of bouquets
1. Hand-tied bouquet
As the name suggests, the bouquet arrangement is roughly held in hands in an unstructured way. The hand-tied bouquet is also known as posy because it is one of the most popular bouquet arrangements among the brides. Its minimalistic style looks very pleasing and elegant. Thus, many brides choose to carry three or four long-stemmed flowers of the same kind.
2. Nosegay bouquet
Contrary to the hand-tied bouquet, the nosegay bouquet is more structure and the flowers are packed tightly. The length of this bouquet is very compact and small that it easily fits in your hands. The stems are cut and trimmed to the same length and tightly wrapped in a ribbon or lace. Mostly the bouquet has a stiff back that provides its beautiful and compact shape.
3. Biedermeier bouquet
Biedermeier bouquet style is named after a European style (Particularly German) of interior design. The bouquet looks very similar to the nosegay bouquet. However, the difference stands in the arrangement of the flowers. The Biedermeier bouquet is arranged in a tight concentric circle made of contrasting colors of the flower. It creates a dramatic effect that looks stunning and appealing.
4. Pomander bouquet
Pomander bouquet is basically a sphere of flower tied up with a loop of ribbons. Though it is very usual as a bridal bouquet yet it adds a youthful and romantic charm to the bride's personality. Mostly it is used for flower girls or bridesmaid.
5. Composite bouquet
The composite bouquet is made with hundreds of petals wired together on a single. This makes it look like one big flower. It offers an elegant, graceful and chic appeal to the bride. It is a slightly expensive option when it is compared to other bouquet arrangements.
6. Presentation bouquet
A presentation bouquet serves as a great alternative you opt for a glamorous bridal look. The bouquet consists of long-stemmed flowers such as calla lilies, roses or delphiniums tied together with ribbons and bows. Here the bride cradles the bouquet in her arms like an actress holds a bouquet presented to her at the end of the show. You can find fake sunflowers with long stems to create one such fancy presentation bouquet for your wedding. The Presentation bouquet is also known as the arm sheath bouquet.
7. Cascade bouquet
The cascade bouquet is a traditional style of bouquet that has been doing its rounds for years. It looks stylish and stunning on aa bride's arms. The bouquet is arranged in such a way that it appears to flow over the bride's arm up to her feet. Thus, it is also known as shower bouquet. This style of bouquets usually comes in large shape sand structures but you can find its smaller version as well. They are called teardrops or trail bouquets and they are a modern and trendy take on its traditional version.
8. Basket bouquet
As the name suggests, the basket bouquet is beautifully arranged in handy baskets. This bouquet has its own rustic charm and very popular choice for garden or outdoor weddings. As the flowers are placed in the oasis inside the basket the chances of wilting are reduced exponentially in comparison to other styles of the bouquet. It's a great choice for flower girls and young bridesmaids because they are easier to carry than a nosegay or hand-tied bouquet.
9. Fan bouquet
A fan bouquet is a typical plastic fan intertwined with flowers. Though it offers a strikingly stunning appealing for the ride carrying it. Its unusual shape and structure help you to stand out of the traditional bridal bouquet parade.
Now let's check out 12 Best Artificial Sunflower Bouquets that looks stunningly beautiful, charming and impressive:
Artificial Sunflower Bouquets
1. Simple Sunflower Bouquet Arrangement
This Simple Sunflower Bouquet Arrangement is a classic example of a sunflower bouquet. It consists of 7 sunflower heads along with a long stem in each bouquet bundle. The pack contains 2 pieces each of these vibrant colored sunflower bouquets. The simplicity and elegance of these bouquets bring grace and eloquence into the wedding ceremony and reception. Not just weddings or parties, these bouquets are a great option for home décor as well.
Pack contains 2 bouquets.
7 sunflower heads and long stems in each bouquet.
Made of high- quality silk, plastic and wire.
Easily bendable and flexible.
2. Assorted Big and Small Sunflower Bouquet
The Assorted Big and Small Sunflower Bouquet brings in a stunning visual appeal. It is designed to enhance the décor of your homes, offices, outdoor spaces, and party venues. The pack contains two branches and each branch consists of 4 big and 15 small sunflower heads. Further, the bouquet is beautifully decorated with natural-looking eucalyptus leaves. The faux sunflowers and leaves are made of high-quality silk and plastic are used for stems.
Made of high- quality silk.
Eco-friendly plastic stems.
Assorted big and small sunflower heads.
Perfect for weddings, bridal shower, other parties.
3. Medium Sized Silk Sunflower Bouquet
This Medium Sized Silk Sunflower Bouquet is designed to help you decorate the homes, offices, weddings, parties, church and various other places. The fake sunflower is 3.15 inches in diameter and its total length is 9.45 inches including the long stem. The material used for the artificial sunflower and leaves is made of soft and high-quality silk fabric. This gives the flower a natural and fresh look. The colors look vivid and it does not fade away with time.
Made of silk and plastic.
Pack contains 6 sunflower heads.
Ideal for weddings, parties, home, and office décor.
Use as a wedding bouquet, reception centerpiece, etc.
4. Mini Sunflower Bouquet
The Mini Sunflower Bouquet has its own charm to impress you. The bouquet features cute small sunflowers decorated with leaves and strong stems. It looks gorgeous as wedding bouquets on the bride's hands. It makes lovely centerpieces when combined with a suitable vase, jar or pots. You can use them to incorporate it on brides and bridesmaid's hairstyling as well. Each branch consists of 22 small sunflower heads of 1.5 inches.
Made high- quality silk and plastic.
2 branches, each with 22 mini sunflowers.
Perfect for weddings, parties, etc.
Use as a wedding bouquet, centerpieces, hair styling, etc.
5. Assorted Silk Sunflower Bouquet
This Assorted Silk Sunflower Bouquet looks splendid and brings in an energetic vibe to parties and get-togethers. The bouquets come with an assortment of 7 big and 30 small faux sunflowers on 12 stems. These sunflowers are made of high- quality silk fabric and the eco- friendly plastic has been used for stems. the lush green bushes and the vivid yellow sunflowers look great as a decorative in weddings, stages, offices, dining rooms, porches, veranda, etc. You can use them as a wedding bouquet, wedding table centerpieces, wedding ceremony arches and in various other ways.
Made of eco- friendly plastic and silk.
It comes with 7 big and 30 small sunflowers.
Perfect for wedding and party decoration.
Use as classic bouquets, centerpieces, wall decorative.
6. Assorted Sunflower, Daisy and Baby Breath Bouquet
The Assorted Sunflower, Daisy and Baby Breath Bouquet brings in an elegant and classic look to your parties. This bouquet is designed to be used in many ways. As the flowers and leaves are loosely attached, you can easily take them apart and use to create a floral arrangement of your own choice. Use them in different centerpieces with other flowers of you feel like. The diameter of the assortment measures 7.5" to 8" across and 9.5" in length. The bold colors help to add some personality to your homes, offices, shops, and events.
Assortment of sunflowers, daisies and baby breath.
It can be used as centerpieces, bouquets. Hairstyling, etc.
Perfect for wedding, party, stage, event decorations.
Loose binding, can be taken apart.
7. White Sunflower Bouquet
The White Sunflower Bouquet looks classic and chic as wedding and party decorations. As white is symbolic of innocence, wholeness, purity, and completion, it's a great choice for weddings. The real- like white sunflowers stand for purity, joy, and innocence; as a whole its everything you want your wedding and marital journey to be. The faux sunflowers are made of silk fabric and plastic is used for stems. It's an assortment of 6 big, and 4 small flowers along with 3 buds.
Made of soft silk and harmless plastic.
Assortment of 6 big, 4 small flowers & 3 buds.
Perfect for parties, weddings, etc.
Very beautiful, attractive, & real life.
8. Faux Silk Sunflower Assortment Bouquet
The Faux Silk Sunflower Bouquet is beautiful, stunning and attractive. It is perfect as a wedding bouquet and other wedding decorations. This assortment includes sunflowers, roses, leaves, and beautiful yellow and green foliage. The entire sunflower arrangement is tied together with ribbons to make it look more attractive and chicer. The silk sunflowers arrangement along with roses look stunningly real, natural and lively.
Made of silk and plastic.
Assortment of sunflowers, roses, and leaves.
Perfect for wedding decorations.
Use as a bouquet, centerpieces.
9. Artificial Sunflower Nosegay Bouquet
The Artificial Sunflower Nosegay Bouquet is perfect for wedding and party decoration. Its an assortment of sunflowers and rose heads decorated with leaves and ribbons. These silk sunflowers and roses look very realistic and artist. They are ideal as a bridal bouquet, party table decorations, centerpieces, wedding car decorations, home, and office decor.
Made of silk fabric.
Perfect for weddings, parties, events.
An assortment of sunflower, roses, and leaves.
Ideal for home and office décor.
10. Hand-tied Sunflower Bouquet
This Hand-tied Sunflower Bouquet is handmade with silk sunflowers of different sizes with leaves and ribbons. The assortment consists of big and small faux sunflowers and leaves with plastic twigs. It's ideal as a bridal bouquet, wedding decoration, party, church, home décor. You can also use them for home and office decor, shop, bookstore, cafe, and other places as well.
Made of high- quality silk.
Hand-tied an artificial sunflower bouquet.
Assortment of big and small sunflowers.
Perfect for home & office décor, wedding & party decoration.
11. Ultimate Fake Sunflower Bouquet Bundle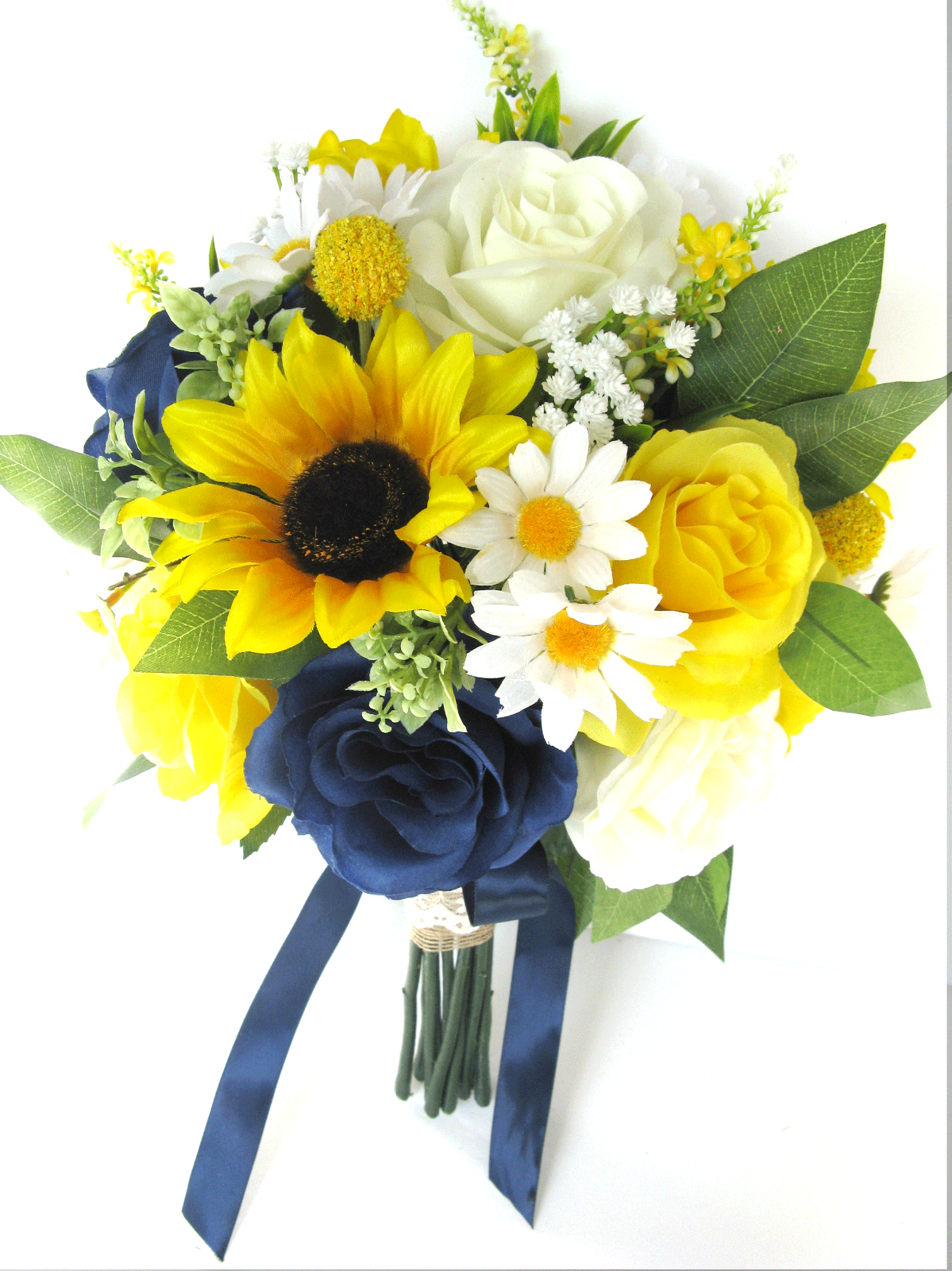 The Ultimate Fake Sunflower Bouquet Bundle is a comprehensive package that brings along all the necessary Floral items for the Bride and Groom. The bundle consists of 1 Bride's Roud bouquet, 1 Maid of Honor round Bouquet, 4 Bridesmaid bouquets, 1 Toss bouquet, 1 Groom's boutonniere, 1 Best Man Boutonniere, 4 groomsmen boutonniere, 2 Fathers boutonnieres and 2 Mothers wrist corsages. The bouquets, boutonnieres, and corsages are mainly an assortment of sunflowers, roses, rosebuds, daisies, baby's breaths, leaves, and berries.
Made of silk fabric.
Assortment of sunflowers, roses, daisies, lilies, etc.
Use as bridal bouquet, corsage, Boutonnieres, centerpieces, etc.
Perfect for weddings, events, stages, home decor, etc.
12. Assortment of Artificial Sunflower & Roses Bouquet Bundle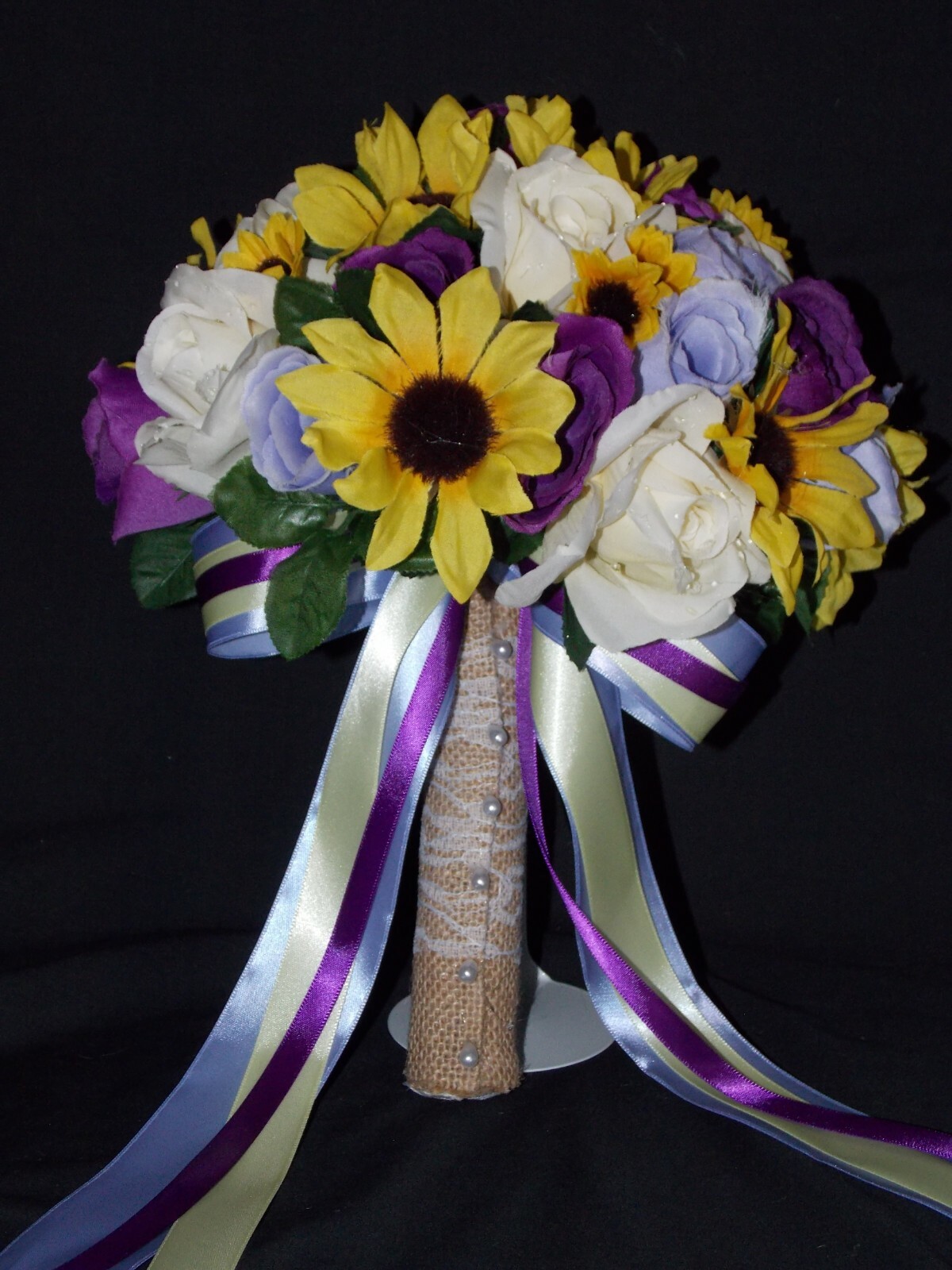 The Assortment of Artificial Sunflower & Roses Bouquet Bundle is another wedding floral bundle that comprises of all the floral requirements for a bride and groom. The bundle consists of bouquets, floral baskets, corsages, and boutonniere for bride, bridesmaid, groom and groomsmen. These bouquets and other floral items are mainly an assortment of artificial sunflowers arrangements nicely blended with other flowers, leaves, baby's breath and berries.
Assortment of Sunflowers, roses, daisies, etc.
Perfect for weddings.
Made of high- quality silk.
Ideal for brides, grooms, bridesmaid, and groomsmen.
Conclusion
Artificial sunflower bouquets are growing more popular day by day. They look real, life like, natural and lively. They come with bright and vivid color palettes. Most importantly they are there forever even after months and years
Choose the best fake sunflower bouquet that fits your bills and décor to brighten up your homes, weddings or events for the better.